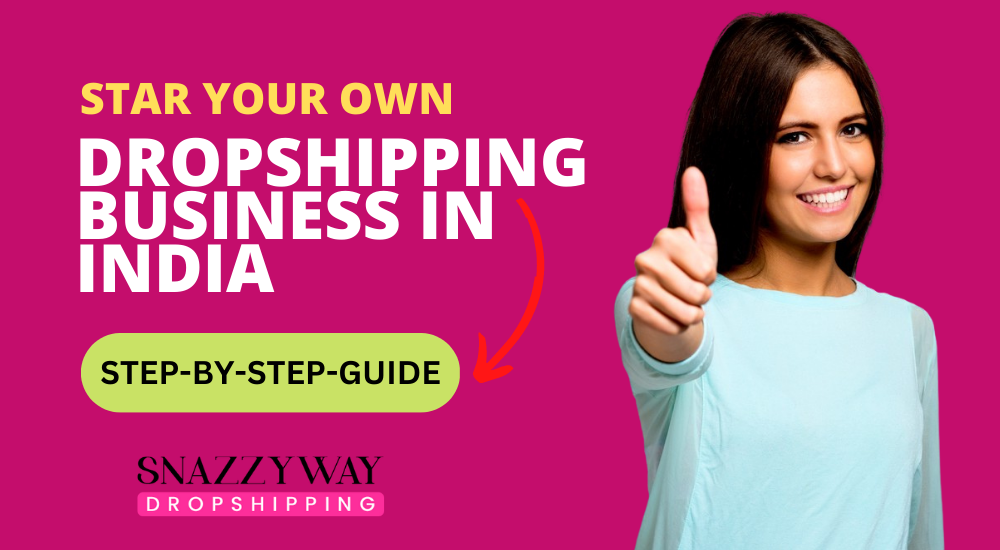 Are you considering starting your own dropshipping business in 2023? What if you could quit your 9 to 5,make money, and build a business that last for years..without the stress of trying to figure out ins and out selling online ? This step – by step guide to starting a dropshipping business in India will give you proven blueprints to make full time earning working from home !  Lets get started
# 1- Identify your niche and target market
Before you start your dropshipping business in India, the most significant move is to select a niche that is popular and has space for your business to develop. You can explore possible business sectors by seeing industry trends and investigating purchaser spending patters.
When you have a decent comprehension of the market, now is the right time to characterize your target market . This will assist you with tailor your marketing efforts and guarantee that your products address the issues  of your clients. Consider factors, for example, age, area, pay level, and interests while characterizing your target market.
To approve your products, it's a good idea to conduct market testing. This can involve launching a ad campaign  of your product and collecting feedback from customers.  This can assist you with fining tune your business idea and guarantee that it is feasible prior to committing huge assets to it.
#2- Create a business plan
Develop a comprehensive business plan that outlines your goals, target audience, marketing strategies, financial projections, and operational details. A well-defined plan will help guide your business and attract potential investors or partners.
#3 Register your business:
Decide on a legal structure for your business, such as a sole proprietorship, partnership, or private limited company, and register it with the appropriate government authorities. Obtain necessary licenses and permits, such as a GST registration, as required by Indian regulations.
#4 Find trustworthy suppliers
Find trustworthy dropshipping suppliers in India who can fulfill orders on your behalf. Research and select suppliers based on factors like product quality, pricing, shipping options, and customer reviews. Establish clear communication channels with your suppliers to ensure smooth operations.
#5 Set up an online store
Create an e-commerce website or utilize an existing platform to set up your online store. Choose a user-friendly platform that allows you to showcase products, manage inventory, process orders, and integrate payment gateways. Ensure that your website has a professional design and provides a seamless shopping experience for customers.
#6 Product listing and pricing
Add product listings to your store, including detailed descriptions, high-quality images, and relevant information. Set competitive and profitable prices for your products, considering factors like product costs, shipping fees, and market demand. Regularly update your product offerings to keep your inventory fresh and appealing to customers.
#7-Marketing and promotion
Develop a comprehensive marketing strategy to drive traffic to your online store and generate sales. Utilize various digital marketing channels such as social media, search engine optimization (SEO), content marketing, email marketing, and paid advertising to reach your target audience. Build a strong brand presence and engage with your customers through compelling content and effective customer service.
As orders come in, communicate with your suppliers to fulfill them promptly. Ensure efficient packaging and shipping processes to deliver products to customers within the promised timeframe. Provide excellent customer service by promptly addressing queries, handling returns or exchanges, and resolving any issues that arise.
Continuously monitor and analyze your business performance, including sales, customer feedback, website traffic, and marketing efforts. Identify areas for improvement and make necessary adjustments to optimize your operations and grow your dropshipping business.
Is GST compulsory in India For drop shipping Business?
Yes, GST (Goods and Services Tax) registration is mandatory for most businesses in India, including dropshipping businesses. As per the Indian tax laws, if your annual turnover exceeds the threshold limit set by the government, you are required to register for GST.
Registering for GST has several benefits for a dropshipping business, such as availing input tax credit, complying with tax regulations, and gaining credibility with suppliers and customers. It also ensures that you can collect and remit taxes correctly to the government.
What are the Documents required for GST registration ?
To register for GST (Goods and Services Tax) in India, you will generally need the following documents and information:
PAN (Permanent Account Number) card: A copy of your PAN card is required for GST registration. PAN is a unique identification number issued by the Income Tax Department.

Identity proof: You will need to provide a valid identity proof of the applicant, such as Aadhaar card, voter ID card, passport, or driving license.

Address proof: A valid address proof of the applicant is required, which can include documents like Aadhaar card, voter ID card, passport, driving license, or utility bills.

Photographs: Recent passport-sized photographs of the applicant need to be submitted along with the application.

Business registration documents: Depending on the type of business entity, you will need to provide specific registration documents. Here are some examples:

For a sole proprietorship: You may need to provide a declaration or affidavit stating the ownership of the business.

For a partnership firm: Partnership deed is required.

For a private limited company or LLP: Certificate of incorporation, memorandum of association, articles of association, or LLP agreement may be necessary.

Bank account details: You will need to provide bank account details, including bank account number, branch address, and IFSC code.

Digital Signature Certificate (DSC): In certain cases, a DSC is required for GST registration. DSC is an electronic form of signature used to digitally sign the application and documents.
Which e -com platform is best for launching a dropshipping website In India?
There are several e-commerce platforms available in India that can be suitable for launching a dropshipping website. The choice of the platform depends on your specific needs, budget, technical expertise, and the features you require. Here are some popular e-commerce platforms in India:
Shopify: Shopify is a widely used and popular e-commerce platform globally. It offers a user-friendly interface, a variety of themes and customization options, seamless integration with various payment gateways, and extensive app support. Shopify also provides dropshipping-specific apps and plugins to streamline your dropshipping operations.

WooCommerce: WooCommerce is a WordPress plugin that transforms your WordPress website into an e-commerce store. It provides a flexible and customizable platform with various themes and extensions. WooCommerce has integrations with multiple payment gateways and supports dropshipping through extensions and plugins.

Magento: Magento is a feature-rich open-source e-commerce platform that offers robust customization options and scalability. It provides advanced features and a wide range of extensions and integrations. Magento can be suitable for larger dropshipping businesses with complex requirements.

BigCommerce: BigCommerce is a comprehensive e-commerce platform that offers a range of built-in features and customization options. It provides responsive templates, integration with popular payment gateways, and support for dropshipping through apps and extensions.

Zoho Commerce: Zoho Commerce is a cloud-based e-commerce platform that offers a suite of tools for setting up and managing online stores. It provides customizable templates, inventory management features, payment gateway integrations, and dropshipping capabilities.
These are just a few examples, and there are other platforms available as well. It's essential to evaluate each platform's features, pricing, scalability, and customer support before making a decision. Consider your specific requirements, budget, and technical expertise to choose the platform that best aligns with your dropshipping business needs.